Ready for Mayweather-Pacquiao 2 ? CBS' top executive says he can get Floyd Mayweather Jr. back in the ring and book the fight again.
Well, that's according to Manny Pacquiao's trainer Freddie Roach, who said he recently bumped into CBS Chairman and Chief Executive Les Moonves in a restaurant and told him that Pacquiao wants to fight Mayweather again in 2017. Here's Roach's story as reported by the LATimes:
"Let's do it again," Moonves said, according to Roach.

"Can you deliver Mayweather?" Roach asked.

"Yes," Moonves said, according to Roach.
The Key Broker
It can be recalled that during Mayweather-Pacquiao 1, Moonves' presence was considered as the key factor in brokering the deal. Said Top Rank boss Bob Arum in 2015:
"It was the persistence of Les Moonves that got everyone talking rationally. With Les pushing it, people around this started acting like adults. Myself included."
Showtime VP Stephen Espinoza, who was there when previous negotiations failed, agreed:
"When we look at the history of these negotiations and ask why this one was different, the obvious answer was Leslie."
Of course other factors like Mayweather and Pacquiao's chance meeting at a Miami Heat game and Pacquiao agreeing to a 60-40 split helped forge the deal. But many, including the persons closely involved in making the fight happen, concur that Leslie Moonves was the key broker in Mayweather-Pacquiao.
But can he do it again?
Different Circumstances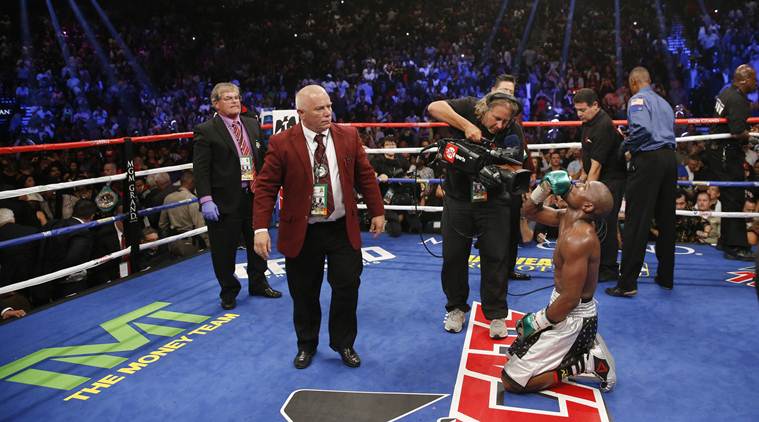 But the circumstances now are entirely different from what they were in 2015. First of all, Mayweather is retired and he claims he is happily so. Boxing's ultimate money maker said he'd prefer to stay in the sidelines, help promote boxing fights and young fighters through his Mayweather Promotions. Secondly, Mayweather already beat Pacquiao and did so rather convincingly that he's got nothing more to prove against the Filipino Pacman. Third, he retired as champion with an unblemished 49-0 record, a feat matched only by the great and legendary Rocky Marciano.
The last one though kept up hanging. With a chance to stand on a pedestal all by himself, why wouldn't Mayweather go for 50? In May, Mayweather filed trademarks for "TBE 50" rousing speculations that he would return for win number 50. To date though, the closest Mayweather has been to returning to fighting has been against MMA superstar Conor McGregor. Whether that was real of hype remains a mystery. But other than McGregor, Mayweather hasn't show any interest of fighting anybody else. Not especially Pacquiao who's claims of a shoulder injury infuriated Mayweather.
The Right Price
With Floyd Mayweather though, it's all about the money. He isn't called 'Money' for nothing. In June, he reiterated that he was contented being retired and enjoying the spoils of a 17 year boxing career. But at the end of that statement, he left a riddle:
"For the right price, I may come back."
Whether that was a joke, half-hearted sentence or otherwise, only he knew.
Mayweather has earned as estimated $800M in his career, including around $300M against Pacquiao. Although he has more money than we all could ever imagine, he has an equally lavish lifestyle. That leaves some to think that he will eventually return because he needs to fund his expensive spending. Or does he?  Regardless, it's hard not to look at a nine figure contract. Even if you are Floyd Mayweather Jr. So if Moonves and some people could put up his money, will Floyd Mayweather say no?
Back For Redemption
In Manny Pacquiao's case, it's a lot easier. Pacquiao got soundly beaten by Mayweather in May 2015 but surprisingly, he claimed that he suffered a shoulder injury that hampered him during the bout. Whether that injury was real or not, Pacquiao has never publicly accepted that he lost to Mayweather in May 2015. Said Pacman to Philippine Media in September:
"I respect and honor the decision of the judges in the Mayweather fight. But if you ask me, I tell you frankly, in my heart, I believe I won that fight."
Not many agree though. But if Pacman was truly injured the way he said he was, what would have been if he were not? That's the fire that's keeping this discussion on the table one year after the fight.
So in his quest for redemption, Pacquiao has returned to boxing, his roots. Despite being a Senator in his country, he's taken a break to challenge Jessie Vargas for the WBO Welterweight title on November 5. Many critics are taking aim at Pacquiao for taking a fight against Vargas instead of Terence Crawford. Crawford beat Viktor Postol in what was supposed to be the 'Manny Pacquiao audition'. Many felt Pacman ducked Bud. Even Freddie Roach said Crawford would be a bad match-up for Pacquiao because of his slick boxing skills. But if Crawford would be bad for Pacman, then Mayweather all over again could be worse. Of course, Pacquiao die hards will not agree, which leaves us with a big debate again. Whether this and the other arguments would lead to serious negotiations remain to be seen.
Do you want to see a Mayweather-Pacquiao rematch?