For three years, Amir Khan was chasing dead ends in search of big fights. Finally, after missing out on a date with Floyd Mayweather Jr. and Manny Pacquiao, Khan will have one with the next biggest boxing name in the market.
Saul "Canelo" Alvarez has been dubbed as the heir apparent to Mayweather's PPV throne. He's also been touted as boxing's biggest star now that Floyd and Manny have retired. So in Canelo, Khan has fished out the biggest fish in today's waters. But in doing so, everything else had to be big: big fight, big date ( Cinco De Mayo weekend), big purse ($13M?) and yes a bigger opponent ( 2 weight classes bigger) and being a big underdog.
As expected, Canelo Alvarez opened as the odds on favorite to beat Amir Khan. One week before the fight, those odds have risen to -500 for Canelo and +350 for Khan (per oddShark.com). These lines were expected, considering Khan will be fighting two weight classes higher than his current division and the fact that his opponent has been fighting at this weight for at least the last three years.
Canelo has 48 pro fights and while he started his first 33 as a welterweight, he's fought at least at 154 pounds since then. On the other hand, Amir Khan has fought 30 of his 34 bouts at light welterweight or 140 pounds and has been at 147 only starting in 2013. Now that's the big difference right there.
Both fighters began fighting in 2005 but Khan is four years older than Canelo. However, Alvarez has logged in more fights, 48-34 and more rounds 326-208. Championship experience-wise,  Canelo has fought in 9 world title fights while Khan has figured in 8. Alvarez is 9-1 against current,past and future world champions while Khan is 9-2 . As a professional, Saul Alvarez has captured two weight classes and Amir Khan just one.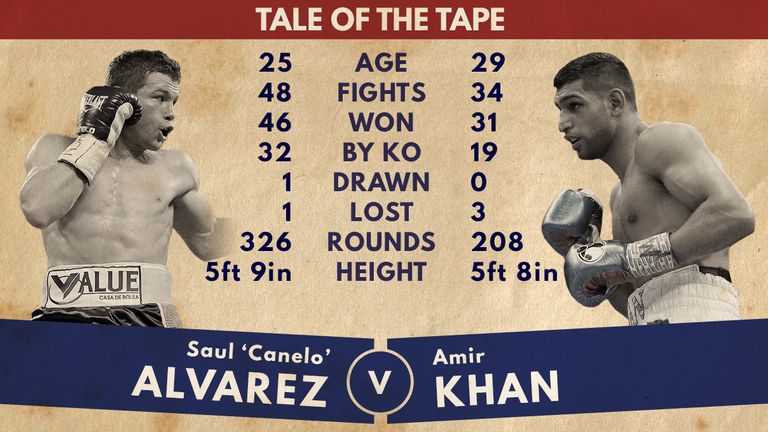 Saturday's Cinco De Mayo Weekend special will be fought at a catchweight of 155 pounds and Alvarez has fought at that weight in his last four bouts. Khan meanwhile, has never fought higher than 147 pounds and that big weight difference could be the main factor in this contest.
But to say outright that Canelo Alvarez is the much bigger man is only a myth. That's because if you watch them side by side, they look of the same size. Alvarez is only one inch taller than Khan but it's Khan who has the half-inch reach advantage over his Mexican foe. The latter is a key because in fighting a bigger man, Khan cannot engage Canelo in a toe to toe battle and must keep himself at a safe distance from Alvarez.
Khan will have to utilise his length to its maximum capacity. He must use quicker hands and feet to box around Canelo. He must establish distance by utilizing his jab and moving around the ring, avoiding the ropes as much as possible. If Khan can replicate and better (in offense)  what Erislandy Lara did in 2014 to frustrate Canelo, the better Khan's chances are.
If we see Khan winning the first two rounds, don't be surprised because Canelo Alvarez isn't really a fast starter. In his last 12 bouts, Alvarez has only finished 1 opponent within four rounds and that was James Kirkland last year. Eight bouts over that period saw Round 12, including his loss to Floyd Mayweather in 2013 and his 12th RD TKO win over Ryan Rhodes in 2011. So if we see Canelo lose some early rounds against Khan, that may not be a cause of concern. In fact, that may be expected of Canelo Alvarez.
Having said that, Canelo Alvarez is a grinder type of fighter who gets tough as the tough gets going . As this fight goes, Alvarez will look  to cut off the ring and eliminate Khan's escape routes. It may take a couple of rounds but once he gets his angles, he's going to start landing those big punches on Khan.
The key for Khan will be if he can sustain his energy and keep Canelo off at least at an arm's distance. If Khan still looks fresh and unscathed at the start of round six, then he's got a real chance of winning the fight. If he's able to avoid damage from Canelo's heavy shots in the first half of the bout, this one could be headed for an exciting finish. However, if we look at the precedent, this is likely not to happen. Not only does Khan tend to slow down in the latter rounds, but he foolishly engages even when he doesn't need to. Virgil Hunter says he's changed that and Khan is a much smarter boxer now. So far, so good. But against Canelo we'll see.
The longer this fight goes, we'll likely see a gradual physical toll on Khan. How much depends on how good his conditioning  and defensive strategy are. But Canelo will grind it out with body shots and try to soften Khan for the kill. Bad thing for Khan, Canelo doesn't get frustrated, unless against a Mayweather maybe. But he'll keep chopping and chopping until you break down.
By the 8th round or so, Canelo will probably catch up with Khan. At that time, Khan could still be up by a point or two but he's playing "kill the time" game already. Thinking he's up on the scorecards, he just wants to hang on for the win. On the other hand, Canelo will be like a diesel engine who's just heating up.  At this point, watch out for Khan's notorious glass jaw to break or expect a powerful liver shot that from Canelo could send Khan down for good.
If Khan survives the 8th round, it will only be a matter of time. The fight won't likely last the distance and with all due respect to Khan, Canelo will grind him to submission. He may get up from a knockdown, but again Canelo will pressure him till he succumbs. The prediction is TKO/KO in the 8th but it could go 9 or 10. Going to the championship rounds is too much to ask of Amir Khan.