WBC Heavyweight title holder Deontay Wilder makes the fourth defense of his belt on Saturday but it will be his first true test not just as a world champion but as a professional boxer.
Wilder's unbeaten record 0f 36-0 is impressive but his 97.2% knockout ratio makes him a cut above the rest. 18 of Wilder's 35 KOs have come in round 1 and that makes him scary. But if you take a closer look at his fight resume, he hasn't faced serious competition yet. Add the fact that he took up boxing only in 2005, you'll conclude that this champion is a vulnerable work in progress.
That's where Alexander Povetkin comes in. The 36 year old former WBA (regular) heavyweight champion has been around longer than Wilder has boxed. A year before Wilder took up the sport, Povetkin won the gold medal in the super heavyweight division at the 2004 Athens Olympics. Prior to that, he captured gold in both the European championships (2x) and the World Championships. As a pro, he won the Heavyweight title in 2011, defended it four times before losing to Wladimir Klitschko in the only loss of his career. He's won four in a row since then, all by KO, to set up a date with Deontay Wilder.
An interesting plot here is the venue because the bout will take place in Russia. But while Povetkin is going to have the crowd behind him, Wilder is no stranger to fighting outside the U.S. Five of Wilder's 36 bouts have been held outside the country: three in Mexico, one in England and another in Puerto Rico. Wilder won all five by KO and within 3 rounds.
Having said that, for all the criticism about Wilder's overall skill and experience, he possesses the one great equalizer to his known weaknesses: punching power. With Wilder, you can throw all predictions and previews away because he can end a fight at any moment. Known as the Bronze Bomber, Wilder has perhaps the most devastating straight right hand in boxing.
The key for Povetkin will be not to get hit by that bomb. That will be easier said than done because Wilder has a tremendous physical advantage  over Povetkin. Wilder is 6-7 and has an incredible 83 inch reach. Povetkin meanwhile is shorter by 5 inches in height and 8 inches in reach. Now that's a significant size disadvantage going against the challenger.
But perhaps Povetkin can take a page out of the Artur Szpilka blueprint. Szpilka took the fight to Wilder and for four rounds or so, Wilder looked baffled. He could not get his jab going. Without the jab, Wilder was unable to set up his big straight right hand. Povetkin is eons better than Szpilka in skill. Call his style boring  but he can work the ring well, both boxing and slugging. The challenge would be how to penetrate Wilder's size and length.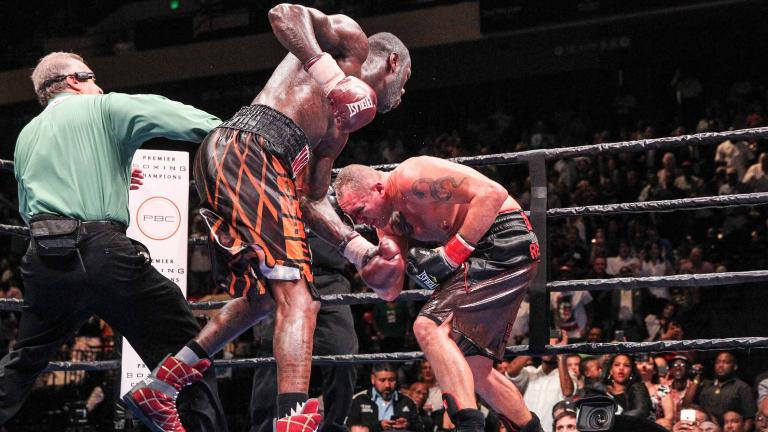 Only three of Wilder's 35 knockouts have come after round 4 and those were his last three wins. Does this mean that Wilder's power is waning? Definitely not, but it says that Wilder's level of opposition has improved, although still not top notch. But while Povetkin can breath a sigh of relief with that piece of information, it also shows that Wilder can take a fight to the trenches and still pull off a KO.
If Povetkin doesn't get hit by an early bomb, chances are Wilder is going to struggle early. If a former soccer hooligan like Szpilka was tough to crack early, a decorated veteran like Povetkin would take longer to figure. Don't be surprised if Povetkin would be up by a couple of points at the midway point of the fight.
However, as in his previous bouts, Wilder will eventually find his range and when he starts peppering Povetkin with the jab, that right hand won't be far behind.  But while Wilder will land a serious shot or two in the 7th round, Povetkin will not go down easily. If he survives the onslaught in the seventh or eighth round, he will likely finish the fight on his feet.
By the ninth round, Wilder will be surprised to see his opponent still throwing punches in front of him. The scores will likely be even by then. But if Povetkn thinks he's got this in the bag, he is terribly wrong. In the best performance of his career, Wilder shocked the world by turning in a 12 round boxing clinic over erstwhile WBC Heavyweight champion Bermane Stiverne. Nobody expected that fight to go the distance, much more expect Wilder to outbox a veteran like Stiverne. But he did, pumping up jabs and firing straights while racking up points. With his length, Wilder will probably do the same against Povetkin if this fight goes to the championship rounds. Povetkin doesn't have the one-punch KO power of Wilder but he has 22 KOs in 30 wins so Deontay won't risk getting knocked out late in the fight. Wilder may not be an experienced fighter but he's smart enough to know that.
Both fighters will see a round 12 and both of them will hear that final bell. Likewise, both will raise their hands claiming victory and that is expected. It's going to be close. But Wilder will finish the fight with more punches landed, both jabs and power shots. 116-112 will be the likely score, but Wilder should come out with a unanimous decision win. No controversies, only boos from  hometown crowd. With the win, Wilder will establish himself as a true player in the wide open heavyweight division. A fight with either Anthony Joshua or Tyson Fury could be next.