The June 4 bout between Francisco Vargas and Orlando Salido is one which true fight fans must not miss not only because it is for the WBC Super Featherweight title but because it has Fight of The Year written all over it.
Francisco Vargas burst to the title picture with his November 2014 victory over Takashi Miura. In that fight, a bloodied and bruised Vargas rallied to turn the fight around and stopped Miura in the 9th, winning the Japanese's WBC Super Featherweight title in the process.
Orlando Salido is no stranger to such fights too. His first bout against Juan Manuel Lopez in 2011 was one. The 2014 fight against Terdsak Kokietgym was another. Then of course there were his two wars with Roman Martinez last year.
It's really hard to say which boxing fights become classics. This one is an exception. Expect an all-out Mexican style war between these two.
Francisco Vargas represented Mexico in the 2008 Olympics but as a pro, he isn't your typical amateur standout. Sure, he can go out there and box his way to a decision but then he will likewise oblige in a slugfest and the Miura bout is a proof of that.
Vargas owns a 3rd round stoppage of Juan Manuel Lopez and victories over Will Tomlinson, Jerry Belmontes and Abner Cotto. This means that his 23-0-1 record is no fluke and so are his 17 KOs. And while his fight resume may not match Orlando Salido's, Vargas' level of opposition has steadily increased over the years.
As we mentioned, Orlando Salido's boxing career is a litany of the who's who in the lower weight classes. He's faced the likes of Juan Manuel Marquez, Robert Guerrero, Cristobal Cruz (2x), Yuriorkis Gamboa, Juan Manuel Lopez (2x), Vasyl Lomachenko, Mikey Garcia and Roman Martinez (2x). Salido's record is 43-13-3 with 1 no-contest and 29 KOs. Don't mind the 13 losses because they are what makes Orlando Salido very dangerous.
While Salido's caliber isn't something Vargas hasn't seen before, one cannot really do much to prepare for Orlando Salido . The guy simply has no quit in him. In his 2013 bout with Mikey Garcia, Salido was outclassed badly for several rounds but he refused to go away. Instead, he kept coming back until he made Garcia look uncomfortable, at times vulnerable. Unfortunately an injury to Garcia halted that bout and Salido lost by technical decision.
Vargas himself has shown indomitable win. Again, we go back to the Miura fight. But can he deal with Salido's resiliency? That's what we have to find out on Saturday.
Against Salido, Vargas will have to be smart and that means he'll likely try to outbox Salido. He obviously is the better technical boxer between the two. Vargas may not beat Salido's willpower but he can outpoint him.
Stats-wise, both have nearly identical punches landed per fight statistics at 189.7 for Vargas and 189.6 for Salido. The difference though is that Salido is busier at 689.7 punches thrown per bout while Vargas is at 539.4 punches thrown per outing. If you like output, you have to pick Salido. But if you're a fan of accuracy, it's Vargas who's better at 35.2% versus 27.5% for Salido. The question is how the judges are going to score the bout: Salido's work rate or Vargas' more accurate punching.
Vargas is the champion here, so the burden of proof must be on Salido to dominate each round in order to win on points. Salido went 0-1-1 against Roman Martinez last year while challenging for the WBO Super Featherweight title because the judges didn't give him the close rounds. If Vargas intelligent boxes, he can easily do the same.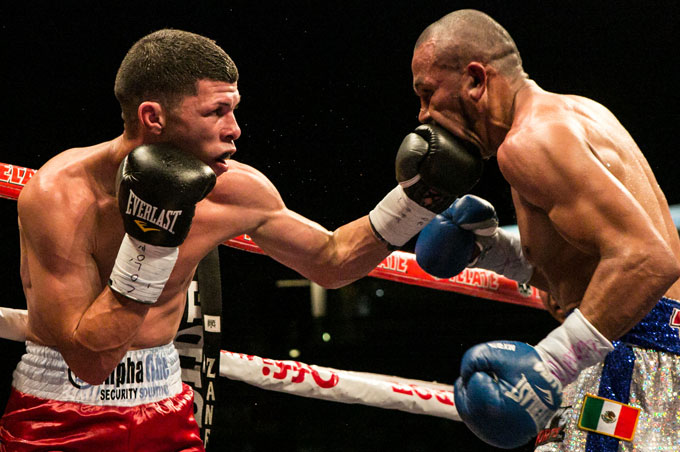 Defensively, Orlando Salido is not unhittable. On the contrary, it's too easy to pile up points on him. Salido's opponents throw a high 550.9 punches per fight against him and land 151.2 of them or 27.4%. Vargas meanwhile allows his opponents to throw just 376.1 punches on him and land only 98.4 per fight or a better 26.2% opponent's connect percentage.
But if Vargas thinks his 71% KO rate will apply to Salido, he may be mistaken. Sure, Salido's been stopped five times before, but those KO losses happened from the year 200 backwards. Salido's never been stopped in the meaningful years of his career, not even by Juan Manuel Marquez, Cristobal Cruz, Mikey Garcia or Roman Gonzalez.
For Salido to win, he must keep this ugly. He doesn't have the better skills than Vargas but Salido is a crafty guy who always finds a way to get into the fight, win or lose. That includes his "tricks of the trade" which some think is dirty. But aren't those what beat Vasyl Lomachenko in 2014? Salido pulled out all the tricks in his bag and frustrated his highly touted foe.
Orlando Salido can be outboxed, he can be dropped. But there is no way you can keep him from coming at you. Quit doesn't exist in Orlando Salido's vocabulary and that's the one thing Vargas must realize. He may dominate Salido early but he can't expect Siri to just lay down and die. Salido get tougher when the going gets rough. There's nothing you could do about it. There are not stats to record this, but this is the one thing that makes Orlando Salido a good pick in this bout. At +350 and a more proven force than his -275 opponent, Orlando Salido definitely holds the better betting value.
We're picking Salido to win by a close decision, 7 rounds to 5 or a 114-112 score, with Siri winning most of the late rounds.