Vasyl Lomachenko isn't only moving up in weight to challenge Roman Martinez on June 11, he'll also be taking on a Puerto Rican on the eve of the Puerto Rican Day parade and he will be doing so in Madison Square Garden.
As if that challenge isn't enough, Lomachenko will also be bidding to win a second weight class with the fewest fights ever. That record is currently held by Japan's Nagoya Inoue who won world titles at Light-Flyweight and Super-Flyweight in just 8 fights. It can be recalled that Loma was denied a piece of history when he lost to Orlando Salido in a world title fight during only his second professional bout.
The name Orlando Salido is very important to this match-up because Lomachenko's opponent, WBO super featherweight champion Roman "Rocky" Martinez fought Salido twice in 2014. Martinez narrowly beat Salido in a Fight of The Year contender in April 2015 and then drew with Siri in a rematch five months later. As we said, it was Salido who shattered Lomachenko's dream to win a world title in the fewest possible bouts. Having said that, the Salido blueprint may be what Martinez needs to beat Lomachenko. In fact, it may be his only chance against the amateur legend.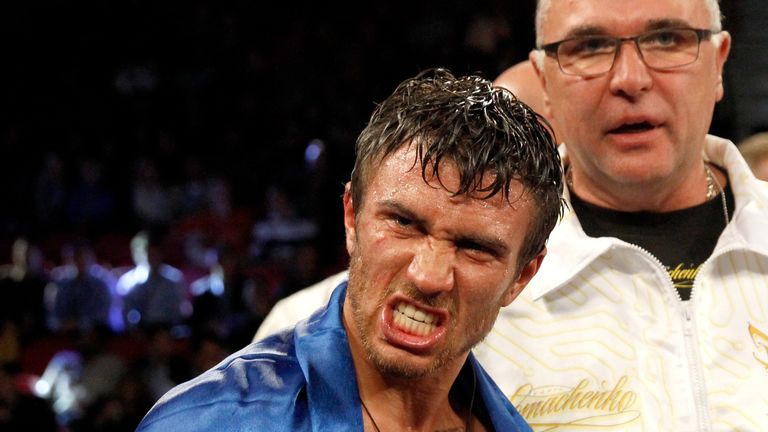 Lomachenko is considered as one of the best technical boxers in the sport today. He is regarded as the best amateur boxer in boxing history, amassing an impressive 396-1 record and having avenged twice his only defeat.
Lomachenko effortlessly floats around the ring, landing punches at an exceptional rate of 37.7% or 187.4/497 punches thrown/landed per fight. Not only does Lomachenko land accurately, he's quick in getting out of harms way after he shoots his punches, thereby making opponents miss badly. On the average, Lomachenko gets hit by just 16.3% of his opponent's punches or 69.6 out of 427.2 punches per fight. With this efficiency and an Einstein like IQ inside the ring, Vasyl Lomachenko hasn't show too many weaknesses as a pro and it doesn't help that he's fought just six times so far. But as we said, there is the Orlando Salido blueprint which Martinez knows too well.
So what did Orlando Salido do against Vasyl Lomachenko? Well, Salido did what Salido always does: Be aggressive, swing for the fences and never, ever give up. Not to mention that the relentless Salido also employed every trick in the boxing book-both good and bad (or borderline?) to frustrate Lomachenko.
Let's give Salido the benefit of the doubt. The headbutts may have been the cause of opposite stances. The low blows were an accidental by-product of continued body shots. But the point is that Salido's forward movement coupled with headbutts and low blows really took Lomachenko off his game for most of the fight. Salido landed close to 100 body shots ( including low blows?) which slowed Lomachenko down considerably. To cut a long story short, Orlando Salido showed Lomachenko every boxing trick and the newcomer couldn't take all of them. Post fight stats showed Salido threw 200 more punches than Lomachenko, all of the power variety. Overall, Loma landed 20 more total punches but Salido won the battle of power punches by 28 blows.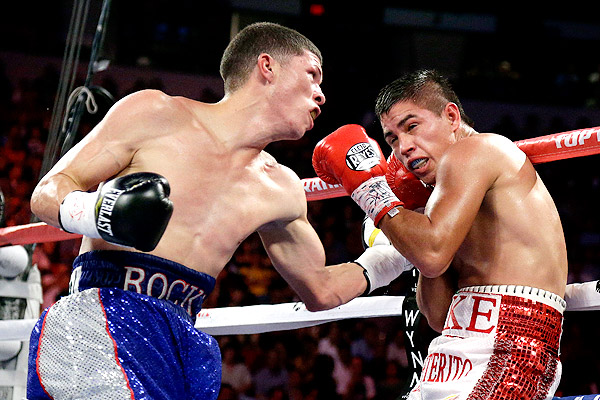 Statistically, Rocky Martinez has the capability to do what Salido did to Lomachenko. Martinez throws and average of 702.5 punches per fight, landing 180.9 of them for a 25.8% connect percentage. That's Orlando Salido territory in terms of volume. Given that, Martinez has the offense to replicate Orlando Salido's game plan. Although Martinez will enjoy a two inch reach advantage over Lomachenko, he doesn't have the physicality of Salido an may not be able to push Lomachenko around, not with Loma's footwork. But knowing his chances, at least he could try.
Defensively, Martinez isn't hard to hit with his opponents landing an average 0f 29.2% of their punches on Martinez. In numbers, that's 220.9 punches absorbed per fight in 755.4 opponents' punches thrown per contest. That's too much, both thrown and landed numbers. The reason is because Martinez is slow and sometimes just plodding forward. That movement or lack thereof is somewhat tailor made for Lomachenko's smooth footwork or accurate punching, and makes this fight an easy pick.
Martinez does have a 58% KO rate but he doesn't have that big KO power in his fists. He may not be fast enough too, to catch a cat-quick opponent like Lomachenko. It's hard tot call Lomachenko's punching power, given his short tenure. But he hasn't needed the power to knock his opponents out because his accurate punching and ring technique have been more than enough to beat his opponent.
The odds are stacked high against Martinez at+ 1250 versus the heavily favoured Lomachenko who is at -1000. Martinez will try his best Orlando Salido impersonation but given Lomachenko's ring IQ, he will pick Martinez apart with his laser-like accuracy.  Martinez has shown to be a durable fighter, with his only KO loss to Mikey Garcia. With Loma's volume though, he'll likely get knocked out in the second half of the bout.