Was that indeed Manny Pacquiao's final bout?
Manny Pacquiao's answer was as definitive as his win over Timothy Bradley. Said Manny to Cristina Poncher immediately after the fight:
"Physically, if you ask me, I'm still okay. I can still fight. But I made my decision to go back to the Philippines and help the people, spend more time with the family."
Despite that though, there are many good reasons why Manny Paquiao should not retire. Let us count them down:
Pacquiao was coming off an 11 month layoff. That's because he had shoulder surgery following his loss to Floyd Mayweather Jr. in May 2015. Pacquiao attributed that loss to his injured right shoulder. However, injury or not, Mayweather was simply to good for the 2015 version of Pacquiao to beat. Against Bradley, Pacquiao barely showed signs of ring rust nor any ill-effects of the injured shoulder. Safe to say now that Pacman is 100% healthy.
Pacquiao has alway been able to set aside distractions like Philippine typhoons/disasters, marital problems and tax woes to focus on his fights. This time though, it appeared that his controversial gay comments would be his downfall. He lost not only his longtime Nike endorsement deal but thousands (millions?) of fans who disagree with his opinion on gay couples. Still, that did not affect his performance against Bradley. Instead, he fought like the Pacman of old and delivered one of his best performances in recent years.
Manny Pacquiao did not look 37 years old against Timothy Bradley who by the way, is five years his junior. Even Bradley admitted Pacquiao was that good. Said Bradley after the fight:
"Manny was very strong in there. Very heavy punches. He was also very patient….He's just very quick and very explosive. Great reflexes, and it is hard to defend. Congrats to Manny."
Considering Pacquiao dominated the best ever version of Timothy Bradley, it proved that Manny still belongs to the elite.
Pacquiao had fought Bradley twice before, but this was the best performance among the three fights. Pacquiao and Bradley had gone the full route in their first two bouts and there wasn't a single knockdown in those 24 rounds. There were two on Saturday night and if the seventh round knockdown would pass for a flash kind, the one in the 9th round did hurt Bradley. Pacquiao said the difference was that he was going for the knockout in each round. So while he didn't get his first KO win since Cotto in 2009, Manny showed he still has the power and more importantly the killer instinct to go for the KO.
So if Pacquiao is healthy, still has the focus, the elite skills and the killer instinct, then why should he retire?
First of all, not many great fighters have the chance to go out on top. Save for 47-0 Floyd Mayweather, the likes of Muhammad Ali, Sugar Ray Leonard, Mike Tyson and Oscar De La Hoya ended their careers with a defeat. No, that final loss didn't diminish their legacies a bit but it would be great to go out on top rather than have the Kobe Bryant farewell tour feeling.
He may have beaten Timothy Bradley convincingly on Saturday night but that doesn't mean he is still the Destroyer of old. He is 37 years old and he isn't getting any younger. He may still have shown the speed against Timothy Bradley on Saturday night, but gone was the ten punch combo we saw in their second fight:
Or the incredible 17 punch flurry against David Diaz:
You can always argue that Pacquiao is no longer the same fighter. He's a master boxer now. Yes he is. But it's obvious he is no longer physically the same dynamo he was in his younger years. That's natural, because as athletes age, father time takes away their gifts one after the other. Sad thing is, nobody has ever beaten father time. Not even the greatest of greats. Not Manny Pacquiao too.
While father time hasn't beaten Pacman yet, it's starting to show. Pacquiao fought in flurries against Bradley he didn't throw more than four (or five ?) punches in one combo. As he's aged, Pacquiao has picked his spots to explode, pick his shots and has learned to use defense more than offense. It's nice to see him do wonders against Bradley. But can he do what he did on Saturday night against the likes of Terence Crawford? Keith Thurman? Danny Garcia? and Kell Brook? Not to underestimate Manny, but I wish those fights will never happen, not at this stage of his career because it will be like feeding him to the lions in a proverbial changing of the guard. The sport is not as generous to an old dog as it is to  a young pack leader. That's a cruel reality I hope Pacman won't learn the hard way.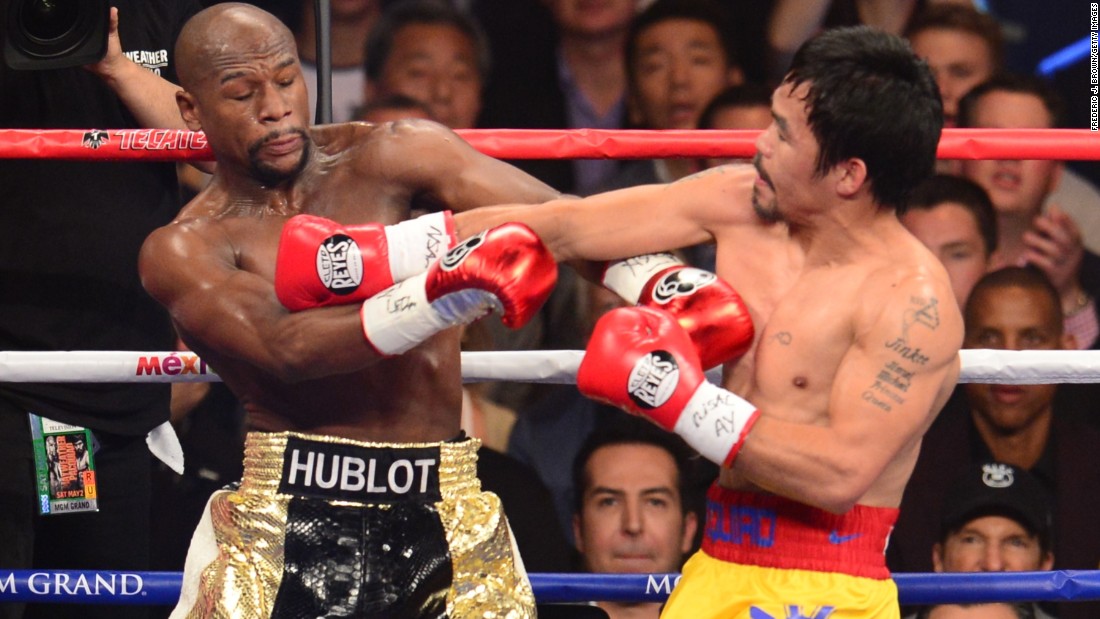 Manny Pacquiao has nothing left to prove inside that ring. He's fought everyone he needed to in his era, including Floyd Mayweather Jr. While all of us were disappointed with that fight, we all can sleep soundly knowing it did happen. Floyd may have beaten Manny but Manny remains the only 8-division world champion in boxing history. And while some contest the legitimacy of one or two of those titles, the record books will say Manny is unparalleled in the sport.
Along with those titles came the riches which transformed his life from poverty to luxury. In his country, he's got businesses and properties worth more than enough to live at least two lifetimes. So what else does he have to fight for?
The reason why many aren't convinced that Manny is retiring for good is the fact that he may be retiring for the wrong reasons. Said Pacman:
"I've made my decision but it's not about being tired of boxing. It's about the advice of my family and I consider their advice because they love me. Also, I'm thinking about giving more time to my family and my job to serve people."
Even then, those reasons are a good start. Said Pacquiao when asked if he'd change his mind about retirement:
"It's hard to say right now because I'm not there and I don't know what the feeling is when I get there."
Be a full-time senator if you want to serve your people. But if you ask me, I'd rather that you lose in the elections and do something most of us ordinary people would only dream about. I've said this before and I'll say it again: Go buy yourself and island to settle down in. Enjoy your spoils and live a happy life with your family. Your boxing legacy is secured and is where it is supposed to be.